Patients receive highly personalized care at the Mayfield Spine Surgery Center.
When you're in pain, anxiety often accompanies it. That's why we designed our center to feel more like a relaxing spa than a medical facility, with private rooms, cutting-edge technology, and a warm, calm environment.
You may feel anxious or have questions about the next steps. Our goal is to help you understand what to expect, what tests and clearances are needed, and how to prepare for spine surgery—so that you are in the best possible health for a successful surgery and a smooth recovery.
Our dedicated physicians, nurses, and staff will make sure you and your family know:
How to prepare before a procedure
What the day of procedure looks like
The technology or treatment that will be used
Recovery expectations

   

Where you can stay if you're traveling from out of town for treatment
Your surgeon's office will contact you regarding scheduling
Your physician's office will call your insurance company to determine coverage after the procedure is scheduled. They will contact you prior to your surgery/procedure regarding your charges and clarify any questions you may have about payment. If you have any questions call 513-338-1516.
Complete your secure, online registration form.
Providing us with your health history as soon as possible gives your medical team adequate time to review it before your procedure.
Register Now
Follow your physician's instructions regarding stopping medications and blood thinners. You should check with your Primary Care Physician or Cardiologist to make sure it is safe for you to discontinue these medications. If you are unable to stop these medications, please let your pain management physician or surgeon know before your procedure so that you may discuss your options.
Follow your physician's specific instructions regarding eating and drinking prior to the procedure. In many cases, you are not allowed to eat or drink before the procedure.
Review the Countdown to Your Procedure infographic for more detailed guidance on what to avoid and what to do to best prepare your body for a procedure.
Your physician will require you to be at the Surgery Center 60-90 minutes before your appointment. Please read or follow your physician's specific instructions. If you're still unsure of what to expect during your procedure, please ask the nurse or physician to review it with you and answer any questions you may have.
The day of your procedure
Arrive as instructed, usually 60-90 minutes before your scheduled procedure time. Wear comfortable clothing. Bring important documents: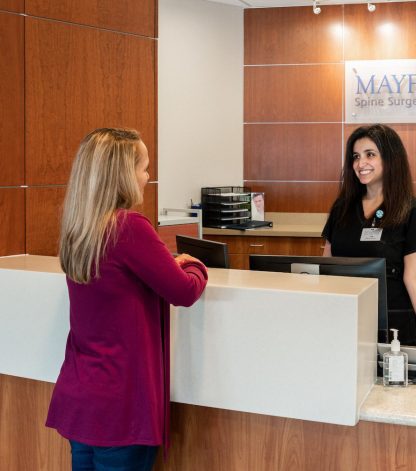 We understand how frustrating it is to be in pain.
3813 Edwards Road Cincinnati, OH 45209
Rates: $139/night (plus tax) caring rate
Amenities: Near UC Medical Center, Christ Hospital and Good Samaritan Hospital. Parking $8/night. No shuttle. Caring rate includes hot breakfast.